Wow wow wow!

Who would have thought things can get so crazy so fast! But they have, and it's become clear that the status quo is not an option and that the "new normal" is going to take quite a bit longer to arrive.

As supply chains are disrupted and consumers look for ways of going about life with a minimum of physical proximity, the importance of local agriculture has become extremely evident. There is a pressing need, how will you choose to answer that call? How will your business contribute and be of service to the local community? What does resilience look like and how do we move in that direction?

Let's work through some of these issues together. This blog is not intended to be informative nor educational. This blog is a hands-on workshop, so grab a pen and paper and let's get to work!
Are your sales channels compatible with the new "normal" of COVID 19?
The first step is to take a good look at your current marketing outlets to see how they are responding to the evolving situation. For some of these, the answer might be quite obvious (ie. your restaurant client is shut) while for others it might be uncertain or unknown how they will respond. One useful tool for this type of analysis is called the SWOT analysis.

Strengths: What are the known positive elements?
Weaknesses: What challenges are certain to accompany this market outlet?
Opportunities: What possibilities are seeking to emerge from this crisis?
Threats: What risks are potentially present, both known and unknown, current and future?

This analysis allows you to look at both your current marketing outlets as well as possible alternatives and future iterations.

Strengths
Weaknesses
Opportunites
Threats
Farmer's
Market
CSA
baskets
Restaurants


Local
grocery stores
Wholesale
Distributors
Home delivery


Online
sales
How will you select and act upon emerging opportunities?
Before we go any further, I want to address the elephant in the room: the idea that talking about sales and "seizing opportunities" is inappropriate in a time of crisis. Let's be clear about something: I'm not talking about taking advantage of people in crisis. I'm talking about being of service to our local communities and providing essential services: food and a connection to nature. It is our duty to step up to the plate. We often talk about Community Supported Agriculture…. Well, that's a two-way street and now it's time for Farm Supported Community (FSC). Taking action to be of service and build our businesses contributes to a thriving local economy, food security/resilience, and provides a livelihood for our teams and their families.

Great, let's move on.

The second step is to choose which opportunities to move forward on. What have you observed so far about current and potential marketing outlets in the SWOT analysis? The next step is to compare the attractiveness of each option and gather the information needed to make the clearest decision possible given the circumstances.

One approach that I have found useful is to evaluate the two following criteria for each option on a scale of 1 to 10:
Sales potential: On a scale of 1 to 10, what income does each option generate. Take both short term (6-12 months) and medium-term (2-3 yrs) time scales into consideration.
The effort required: On a scale of 1-10, how much additional effort is required to act on this marketing opportunity. Be specific in this analysis. Don't just consider "home delivery" as the option… really be precise, as in "home delivery to x, y, and z neighborhoods". It's easy to underestimate or overestimate things when we're talking about abstract options. You need to be clear and specific at this stage of the analysis.
Once you have this table completed, chart it out with effort required on the horizontal axis and the sales potential on the vertical axis.

This creates 3 distinct areas: The low hanging fruit, the rotten apples, and serious options.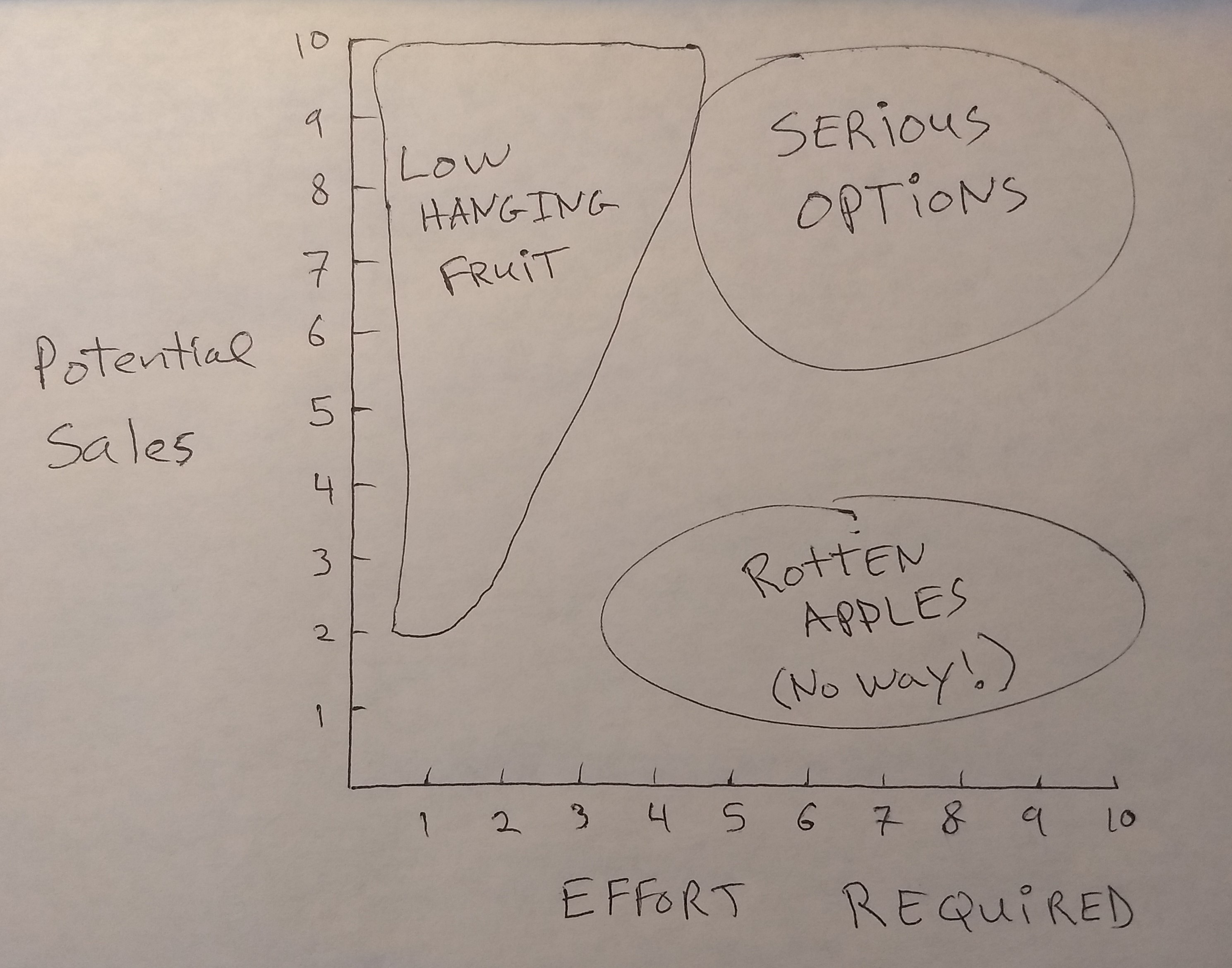 If you're considering home delivery or online sales, here are a couple of useful resources:
Here is a home delivery cost calculator spreadsheet that I built. Click on "File" > "Make a copy" to save a version you can edit. Then modify the information to suit your circumstances. Here's a link to an MS Excel version. Contact me via email if you have any questions about what numbers to enter where and how to use this tool.
While I haven't personally used them, here are 3 online platforms that I'm hearing positive feedback on: Local line, Grazecart, Shopify.
Here's a blog post about route optimizer tools for determining the delivery route. Once again… I have no experience with these tools so I cannot endorse or criticize any of them.
How will these changes impact your cash flow and profitability?
Last but not least, we need to see if the chosen actions are going to be financially sustainable in the short and long term.

In the short term, cash is king! Will these options generate the cash needed to pay your bills, your team, and yourself to keep your business alive and thriving through the current crisis?

In the long term, cash and profitability are both kings (cooperative co-kings) 🙂 Once we know an option will get us through the short term, we need to evaluate whether this option is the best for us to thrive and expand in the post-COVID world.

Here's a cash flow management tool developed by my colleague, Noah Munro, from Kitchen Table Consultants (a collective of farm viability consultants I am a part of.)

I'll let you check out that spreadsheet on your own, and I'll discuss this as well as profitability in a future post, as this post is starting to get pretty long and I'm sure you have a million things to do today!! 🙂

May you and your loved ones be blessed with health, clarity, and serenity, Now and Forever!